Sued by a Credit Card Debt Collector?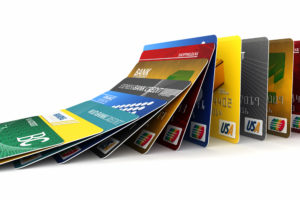 New York Credit Card Debt Collection Lawyers
Queens · Brooklyn · Manhattan
Our New York credit card debt collection lawyers represent consumers sued for overdue debts.
If you are currently struggling with the burden of growing credit card debt, do not think that you are alone at this time. As of 2017, the Federal Reserve estimates that credit card debt is the third largest source of household debt. In fact, it is estimated that Americans owe $880 billion in credit card debt – and the total only continues to rise.
Have you been served with a lawsuit due to unsatisfied credit card debt? Are you currently swimming in debt due to unpaid credit card bills? If so, our Queens & Brooklyn debt defense lawyers are ready to provide you with the help and support that you need to rise from your debt and reclaim control of your life.
Call or Text: (212) 221-9892
You deserve effective and aggressive legal representation. Speak with our Queens & Brooklyn credit card collection defense attorneys at The Hurwitz Law Firm today!
Find out how your credit card debt can be settled
Once a consumer is behind on payment obligations, credit agencies and creditors will try to initiate collection efforts to obtain the alleged money owed. Even if you think the complaint against you has been made in error, it is crucial that you respond immediately. Failing to take action could mean that a judgment will be made against you without you even being made aware.
There could be potential defenses for your particular case, including:
You never received notice of a complaint or you were never served with a lawsuit

You have already paid the debt, either in full or in part

You have discharged the credit card debt through bankruptcy protection

Creditor failed to prove the creditor or third party collector legally owns the debt

Creditor failed to prove that you actually have credit card debt, or owe the alleged amount

Creditor failed to take action within New York's statute of limitations

Creditor failed to adhere to the Fair Debt Collection Practices Act (FDCPA)
Even if you are unaware of your rights as a consumer, we encourage you to step forward and ask for professional legal assistance. Do not think that you have to take on a collection agency on your own means. Our Queens & Brooklyn credit card collection defense lawyers are aware of your rights and provide you with relentless, tireless, and zealous legal advocacy. We stop at nothing to make certain creditors and agencies play by the rules – and keep your best interests wholly preserved.
Contact Our NYC Credit Card Debt Collection Lawyers for a Free Case Evaluation
Call or Text: (212) 221-9892
We strongly believe the key to success is in our ability to openly communicate with our clients. By fully informing them of their legal rights and options, as well as the risks and rewards associated with each, we can help our clients make empowered decisions for their financial future. Due to our hyper-focused approach to legal representation, we can specifically focus on accommodating the unique and constantly changing needs of our clients through every stage of development.
Contact our firm to request your free case evaluation in our convenient and confidential office.